The Duchess of Sussex often wears bits and baubles with significant meaning. Rather than opt for standard accessories, Meghan prefers to keep her family close with her collection of gorgeous gems. The subtle but sentimental trove of shiny things–means Meghan is connected to her beloved boys at all times.
Here are All the Times Meghan Markle Made a Shoutout to Prince Harry and Baby Archie with Her Jewelry:
Beaded Bracelet
One of the first clues Meghan gave of her budding relationship with the prince was multiple photos of her wearing a beaded bracelet identical to one worn by the ginger haired royal. In images on her social media page, Meghan frequently offered snapshots of the colorful bangle. Harry reportedly picked up the 'His' and 'Hers' bracelets during one of his trips to Africa to give to his lady love.
Initial Necklaces
Meghan often pays tribute to her family by way of letter pendant necklaces. When Harry and Meghan were newly dating, the Suits actress made no attempt to hide her affections and was seen wearing a Right Hand Gal custom initial necklace with the letters 'H' and 'M.' After Archie was born, the duchess opted to pay tribute to her babe with a $595 Verse 18k gold letter 'A' necklace to watch Serena Williams at Wimbledon in July.
Birthstone Jewelry
The Duchess of Sussex was preparing for her new addition long before his birth and was spotted with a colorful ring stack by Ecksand. The trio of gold bands included a green peridot (for Meghan's August birthday), a blue sapphire (for Harry's September birthday) and a diamond (for Archie's 'April' birthday). Well, either Meghan was deliberately trying to throw the public off with her ring ruse or Archie came later than expected as the Major was actually born on May 6th! Perhaps, she should've had an emerald ring as a back-up?
Dog Tags
Meghan's latest shoutout was a bit unexpected as the duchess opted for a dog tag to display the initials of her most beloved at the U.S. Open. While there has been speculation that her Mini Mini necklace tags featured an 'A' and 'H'–some believe the double tags actually were the letters 'H' and 'M.' Either way, we know Meghan is deeply devoted to her Frogmore Cottage crew.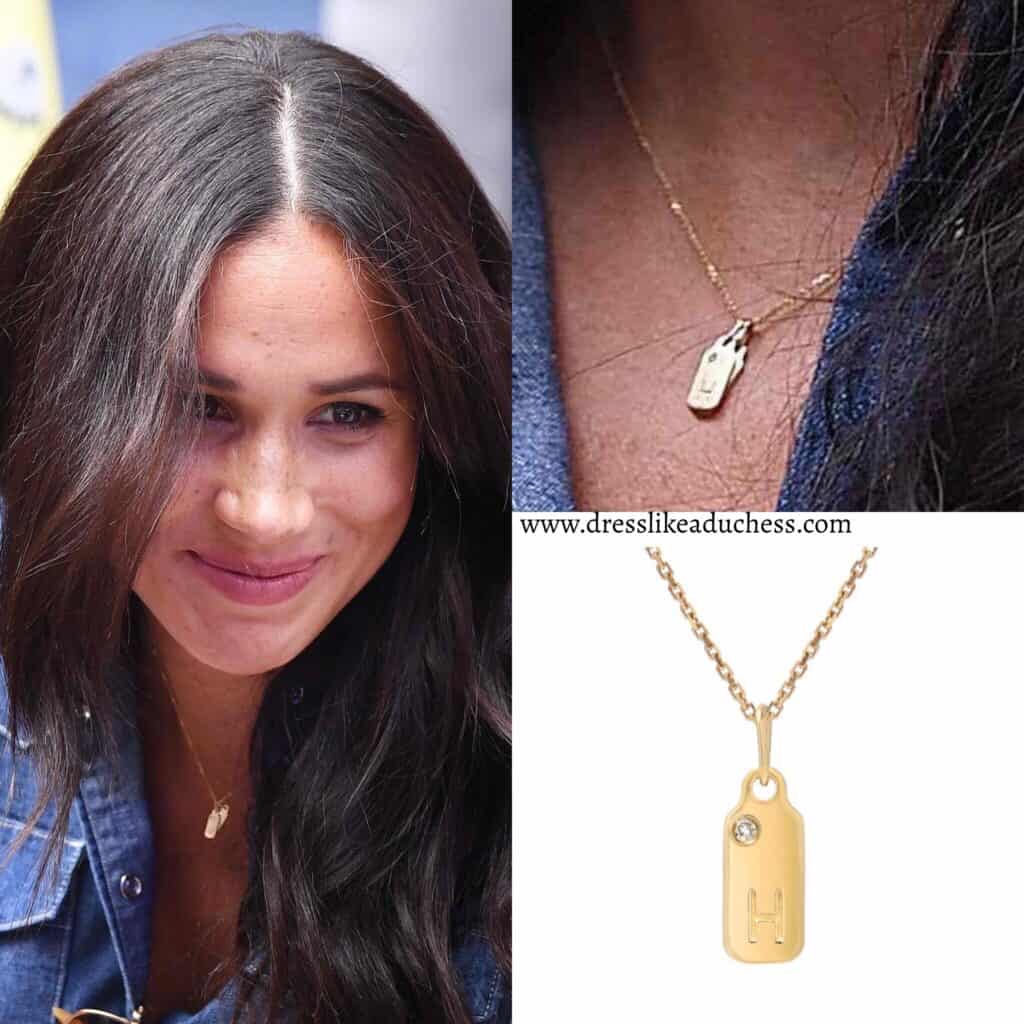 Mummy Necklace
In New York City, Meghan was sure to embrace her new #momlife status with a Jennifer Meyer 'Mummy' necklace that she reportedly received as a gift during her baby shower. The duchess also wore the piece for a WE Day event in London in her final months of pregnancy.