While it's uncertain whether Prince Harry and Meghan Markle are expecting a baby girl or boy, there have been lots of confusing signs from pink baby shower decor to Meghan reportedly telling friends she is having a little boy;  there's lots of gender guesses going around. And while a bouncing baby boy will no doubt be the star of the Sussex squad, we couldn't help but consider the fact that if Meghan was mom to a little princess, how adorable their matching closets of clothes would be.
Indeed, Meghan would likely show her little one the ways of the fashion world and outfit her mini-me in some seriously darling duds.
Here are 6 Baby Girl Outfits for Meghan Markle's Nursery Closet:
Rock a Blue Baby
How adorable would it be if Mama Meghan and her tiny tyke were matchy-matchy in these blue Givenchy outfits? #twocute
SHOP THE GIVENCHY PLEATED DRESS 
2. Kitty Kute
Meghan owns these Charlotte Olympia embroidered velvet slippers and it would be adorbs to see her tiny tot in a matching pair of Pretty Kitty Kiddie loafers.
SHOP MEGHAN'S SLIPPERS
SHOP THE LITTLE KITTY SLIPPERS
3. Trench Twosome
Meghan and Harry's little bambino would surely be a future fashion star in a Burberry trench dress just like mom's who stole the show in a pink Nonine number.
4. Side by Side Stripes
Yes, Meghan could presumably take a stroller to Wimbledon where she could watch tennis from the stands not to mention be on mom duty in this striped shirt by Ralph Lauren. But the real LOVE-LOVE of the day would come from Meghan and her littlest sidekick in twinning Ralph Lauren stripes.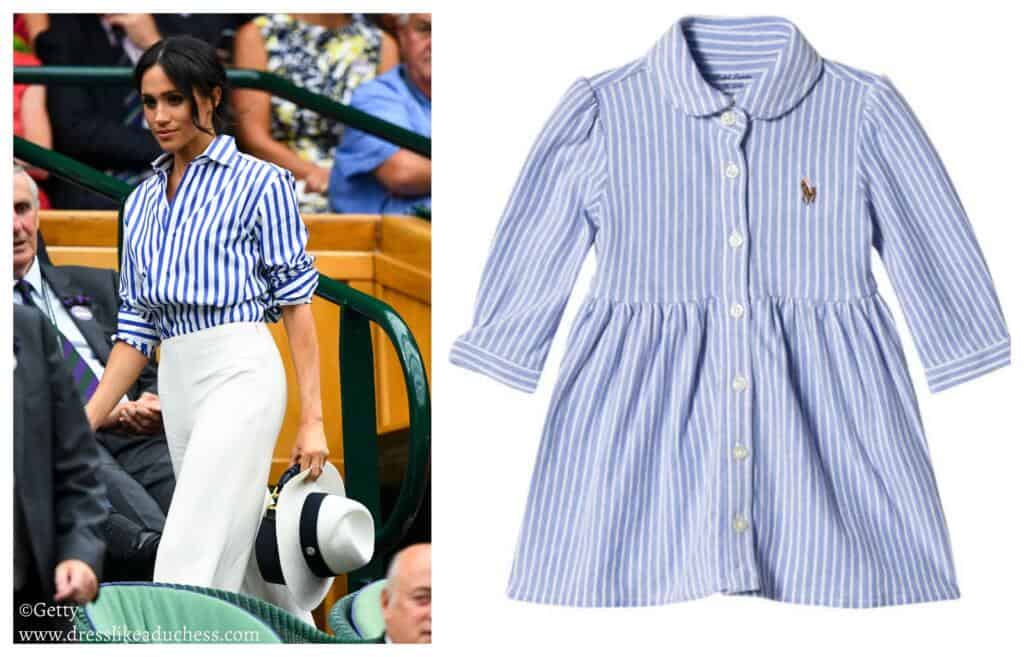 SHOP RALPH LAUREN BLUE STRIPE DRESS
SHOP FOR A BOY
5. Floral Family
Hearts would melt at the sight of the Sussex babe and Meghan attending a garden party in twinning toile blue and white floral dresses by Oscar de la Renta. Can you say cute overload?
SHOP MEGHAN'S DRESS 
SHOP THE KIDS SILK CHIFFON TIERED DRESS
6. Denim Duo
Meghan and her little cub could totally rock these denim dresses together. Meghan's wrap dress was by Carolina Herrera but a similar style from Oscar de la Renta's children's line would make for a solid mommy and me moment.
SHOP OSCAR DE LA RENTA RUFFLED DRESS