The Duke and Duchess of Cambridge have shared a video of their family to thank well wishers on the occasion of their 10 year anniversary celebrated on Thursday. The intimate home movie of the family of five was actually captured in the fall of 2020 at their Norfolk residence by Will Warr — the Cambridges can be seen roasting marshmallows, exploring beach dunes near their home and enjoying racing through a nearby orchard area.
The Cambridge kids were captured having fun with their mom and dad in the great outdoors.
Prince Louis appears to be the apple of his parents eye and the comedian of the brood as he's pictured laughing and playing with his parents throughout the short movie. The young royal also appears on a playground seesaw in one clip.
Princess Charlotte is captured wearing her Ralph Lauren Intarsia wool blend jumper featuring a cottage scene.
The Cambridges also roasted marshmallows around a fire as William and Catherine sat on barrels of hay.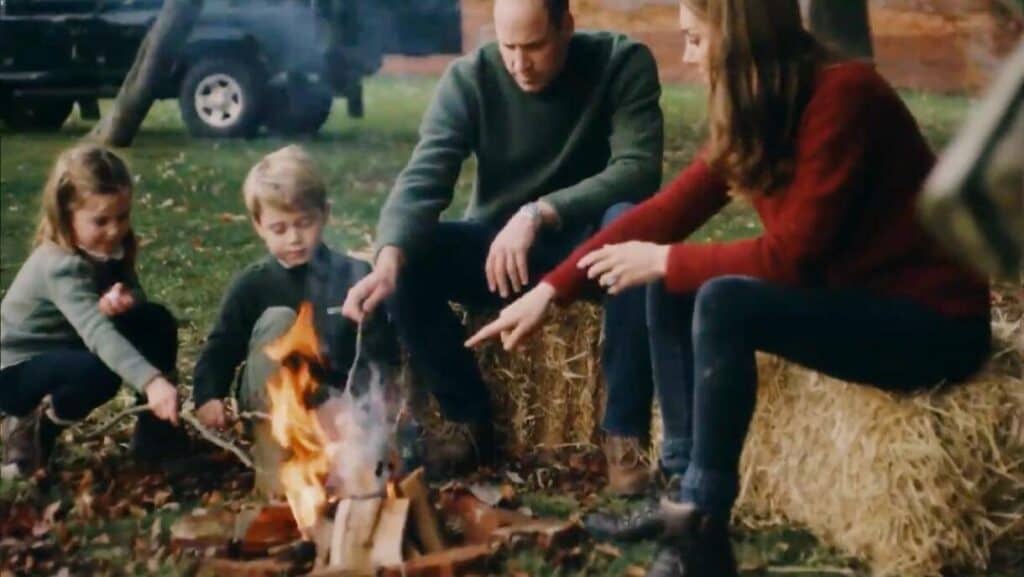 Kate and William shared some loving glances and sweet smiles as seen in the footage.
For the short movie, Kate opted for her Dubarry Friel jacket.
In addition, the Duchess of Cambridge donned her unidentified red jumper as seen in the introduction of her Hold Still photography book. Kate also wore her Sezane Marguerite blouse.
The duchess looked stunning in her Hicks & Brown Suffolk fedora climbing the dunes while holding hands with Prince Louis.
The foggy and misty Norfolk autumn was the perfect backdrop for the film noir style shot.
Kate completed her country chic ensemble with her Berghaus Supalite boots.
Based on the outfits — it appears the family film was captured on the same day as the Cambridge Christmas Card 2020.
*Follow along on our LiketoKnow.It page (download the free app) for daily duchess fashion finds and look for less options