When most people prepare to attend a wedding, they have to study their closets to find suitable fashions or splurge on expensive evening wear. For Kate Middleton, this is not the case. The Princess of Wales already has a closet full of fancy frocks, beautiful ballgowns and sundresses galore.
But what does this comely Queen-in-waiting wear to a wedding? Well, for starters, nothing flashy, nothing too royal (i.e. custom crepe coats) and nothing too distracting or uncomfortable. For Princess Kate knows the bride needs to have her day to bask in the glow of warm wishes and celebratory cheer without any royal interference.
Though the years, Kate has attended her fair share of society weddings. From Prince Harry's grand castle wedding to small church ceremonies — she's known for wearing many recycles from her existing royal wardrobe as well as simple sundresses with basic blazers and knee-length coats.
Here are 11 of Kate Middleton's Best Wedding Guest Style Moments:
1.Cream of the Crop
Clad in a cream jacket, William's then-girlfriend attended a summer wedding in June 2005 in a Karen Millen lace skirt with black and white paneling and a simple black hat by Philip Treacy.
2. Fly Girl
The princess-to-be wore this cream jacquard coat by label Day Birger et Mikkelsen for the wedding of Queen Camilla's daughter. She paired her gold coatdress with a feathered by private fashion brand Yvette Jelfs.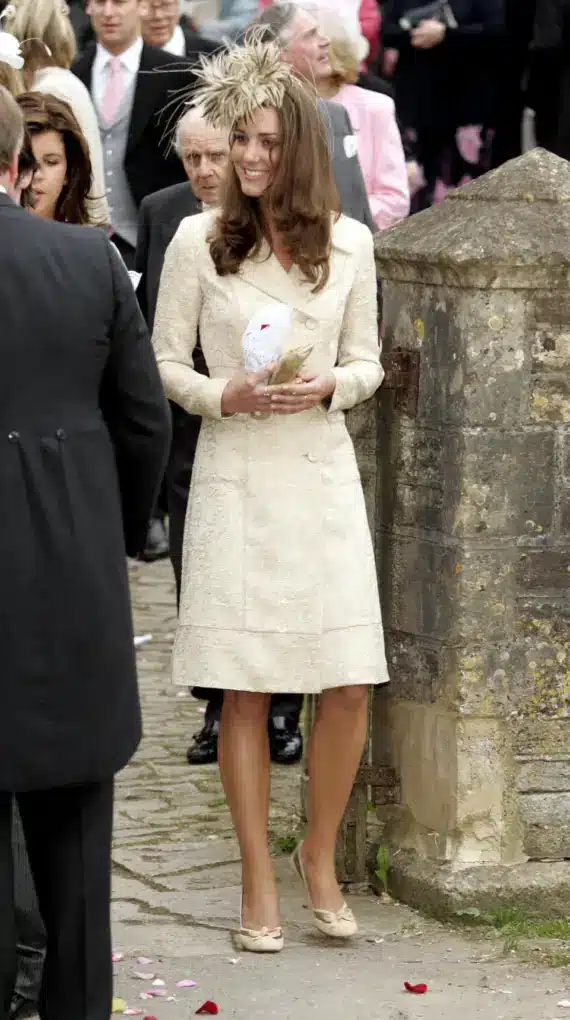 3. Blue Crush
In a preview of the fashion future, Kate donned a cobalt blue bespoke Issa dress for a Cotswold country wedding in October 2010 prior to her engagement to Prince William. The brunette beauty accessorized like a future royal with Jimmy Choo Lovely black pumps, Tiffany and Company bracelet, Asprey London button pendant necklace and an Aurora Hat from Get Ahead Hats.
4. Print Happy Princess
Saving time and money, Kate went with a budget minded graphic sheath dress by Zara for Sam Waley-Cohen's wedding in Berkshire. The groom, an entrepreneur, was reportedly responsible for helping Kate and William reignite their romance after a temporary split.
5. Brocade Beauty
At a summer wedding in August 2009, the princess was seen chatting with fellow guests in a Jane Troughton tailored blue brocade coat and Jane Corbett hat.
6. Swiss Miss
In a Max Mara studio dress and brown Sylvia Fletcher Betty Boop hat, Kate appeared unfazed by the cold temperatures as she attended a wedding with Prince William in Switzerland in March 2013. Expecting Prince George at the time, she opted for printed leopard mini dress for the European affair; she completed the wintery ensemble with chocolate brown accents including Valerie pumps and a Natasha clutch bag by Emmy London.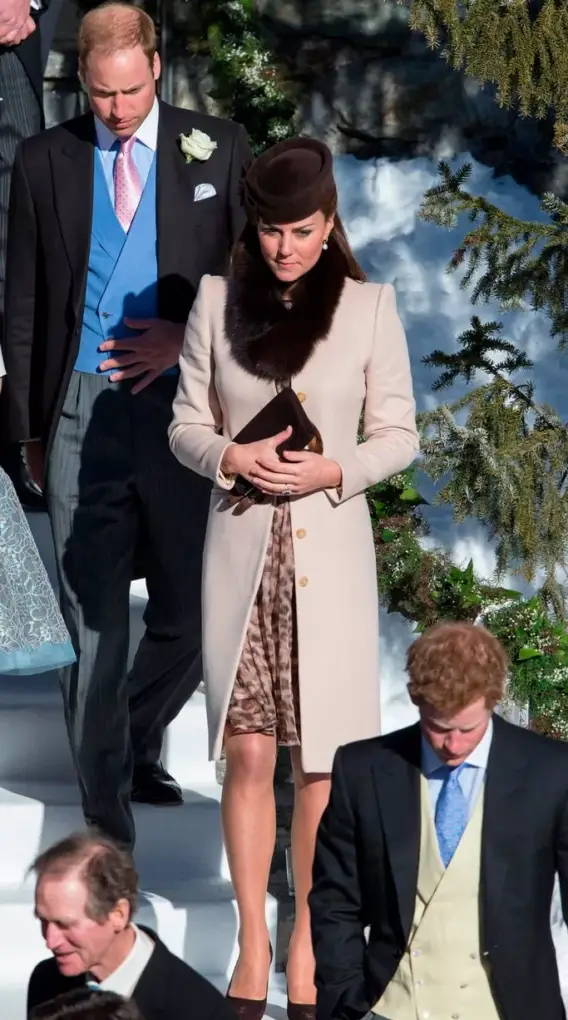 7. Classic Catherine
Appearing in an outfit that would work for royal duty, Kate wore a floral Jenny Packham dress for a wedding in June 2012. The newlywed also donned her Katherine Hooker Buxton coat made of silk and wore a Whiteley Fischer hat in cappuccino. For accessories, she carried a Hobbs Somerton Clutch and wore her budget-friendly Heavenly London earrings.
8. Maid of Honor
Offering sisterly support, Kate wore a bespoke blush McQueen dress to watch her younger sibling walk down the aisle in May 2017. Chaperoning the page boys and flower girls, Kate looked sensational in her rosy midi with soft pleats and delicate peplum skirt detail. She paired the satin dress with a Jane Taylor hat featuring a handmade silk rose and accessorized with large morganite earrings from Kiki McDonough.
9. Mellow Yellow
Having just given birth to Prince Louis, Kate showed no signs of fatigue from late night feedings and mid-night diaper changes, for Prince Harry and Meghan Markle's wedding at Windsor Castle in May 2018. In fact, the princess was in top form for the ceremony in a pale primrose yellow silk wool Alexander McQueen coat. Though the coat was widely believed to be a recycle, it was later determined to be a new design. The mom of three also wore a rosette trimmed Philip Treacy hat and Jimmy Choo patent pumps for the summer nuptials.
10. A Berry Good Time
Kate continued to show off her knack for style sorcery with a raspberry colored McQueen for Princess Eugenie's wedding to Jack Brooksbank at Windsor Castle in October 2018. Though technically not a recycle, the dress bore an uncanny resemblance to a bubblegum pink design worn for Trooping the Colour in 2017. To complete the fall wedding guest style, Kate added burgundy accessories including a veil fascinator by Philip Treacy and bordeaux velvet pumps by Prada.
11. Saab Story
Looking elegant and ethereal in a dusty rose Elie Saab gown for the wedding of Crown Prince Hussein, Kate offered royal watchers a sartorial surprise in a vintage minded and romantic dress that felt like it was ripped from a Tim Burton movie set. The princess was flawless in her gothic bohemian gown with floral motifs, pleated detailing and swiss dot paneling in June 2023. She finished the look with a Wilbur & Gussie gold clutch and Prada scalloped sandals.