The Princess of Wales has a sustainable mindset when it comes to her favorite fashion brands — a lover of recycles, rewears and repeats — the mom of three is not one to toss or throw away her beloved style classics. In recent times, the princess has become even more dedicated to eco-conscious clothing and recently rocked a rented Solace London electric green dress for the Earthshot Awards Prize in Boston. The rented dress was a hit with royal watchers and fashion critics alike.
The brunette beauty has also found her style stride by incorporating vintage wares and second-hand styles into her royal wardrobe.
Here are 10 Fabulous Vintage Fashion Pieces worn by the Princess of Wales:
Hermes Clutch, 1990s
Rocking a red vintage 'Rio' bag from French luxury label Hermes, the ravishing royal was on trend with her throwback bag from 1992.
2. Blue Ceramic Earrings, Unknown
Visiting the Oxford House Nursing Home, the princess looked professional in a tan coat paired with navy separates. In addition to her workwear ensemble, the future Queen added a little pizzazz to her blue monochrome attire with chic ceramic statement earrings believed to be vintage.
3. YSL Jacket, 1990s
Clad in a bright orange safari jacket that the princess bought as a university student, Kate looked ready for royal duty in Belize as she showed off her thrifty style savvy.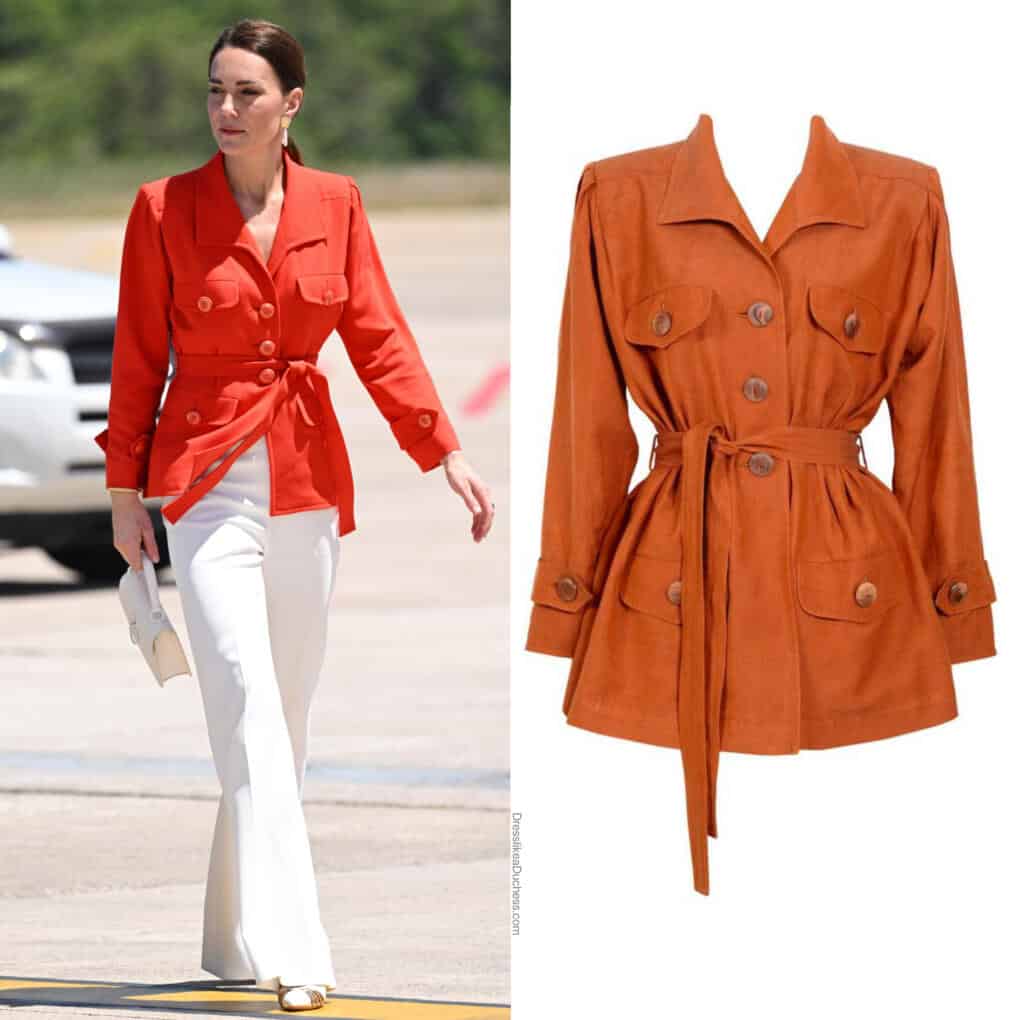 4. Josef Vintage Beaded Clutch, 1930s-1950s
Carrying an embroidered bag with ivory beads and a timeless floral motif, the princess was all smiles at a Buckingham Palace Garden Party in 2022.
5. Chanel Jacket, 1990s
Dating back to 1995, the princess received rave reviews for her inspired blazer choice for a Coach Core event in 2022 — a cobalt tweed jacket from French designer house Chanel.
6. Wayne Taylor Raffia Beaded Bag, 1960s
A splash of orange gave Princess Kate's ivory McQueen blazer and trousers a burst of feminine flair — plus, a 1960s vintage beaded bag from Wayne Taylor added more vintage glam to the professional pantsuit style.
7. Willow Hilson Vintage Dress, 1950s
In Jamaica, Kate burnished up her eco style credentials with a colorful striped dress in coral and turquoise. A filigree pattern added a fun twist to this dress circa the 1950s.
8. Oscar de la Renta Dress, 1980s
Feeling flirty and frilly, the princess was pretty in a vintage purple puff collar Oscar de la Renta dress with an on-trend midi length.
9. Bentley & Skinner Art Deco Brooch, 1920s
For formal engagements like state banquets and the National Service of Remembrance, the princess adds a bit of bling with her shiny and sparkly 1920s diamond brooch featuring geometric shapes, baguette diamonds plus a dazzling platinum pattern.
10. Magid Beaded Vintage Clutch, Unknown
The princess first stepped out with this reflective beaded clutch for a friend's wedding in May 2010 — the famed royal recycler proved her fashion frugality once again by donning the eye-catching black bag for royal events like the Royal Variety Performance in 2014 and the Festival of Remembrance in 2017.