King Charles' coronation was a major affair with lots of pomp and ceremony preceding the crowning of the new monarch. And to mark the occasion, Kate and William shared an intimate family video during the celebrations which revealed new details of their London apartment.
The Prince and Princess of Wales were filmed preparing for the big day by shuffling in and out of their 1A Apartment at Kensington Palace. Prince Louis and Princess Charlotte can be seen gazing out a window while William and Kate are recorded entering the 20-room apartment dressed in their coronation robes.
The family look ready for royal duty as they're featured around the one and half minute mark in the four minute film called 'Coronation Weekend' by filmmaker Will Warr. Other clips include moments from the coronation concert, walkabouts and scenes of Big Ben and other historic landmarks in London. While the Wales two youngest children Charlotte and Louis are filmed in their regal coronation attire in the cozy apartment, Prince George is not included in the home scenes of the video as he had his own starring role as an official page boy during the coronation ceremonies.
The highlight of the film was a look at the Wales' official residence in London. Kate and William's four-story property has 20 bedrooms and underwent a one million dollar renovation prior to William and Kate making the apartment their home base in 2013. According to reports, the spacious family home has five reception rooms, three main bedrooms, multiple dressing rooms and large walled-in private garden. The home includes an elevator for traveling between the four floors, private gym, two nurseries (day and night) and nine bedrooms on the top floor for staff. The Wales urban-centric abode is also equipped with a large laundry room, linen storage room and pantry.
Over the years glimpses of the palatial home have been shared with the public — the living quarters are outfitted with traditional furnishings including comfortable tufted rolled arm sofas in soft beige, many floral and velvet throw pillows, a grand piano and large central ottoman with solid wood legs.
A stuffed animal replica of the White House puppy Bo (given to Prince George from the Obamas) was resting on the living room footstool during a meeting with the former United States President Barack Obama and his wife Michelle. And a wooden rocking chair was perched in a corner near the long paned windows and was used by Prince George during the presidential visit. Wooden window seats overlooking the gardens also give the entertaining spaces plenty of character and old world charm.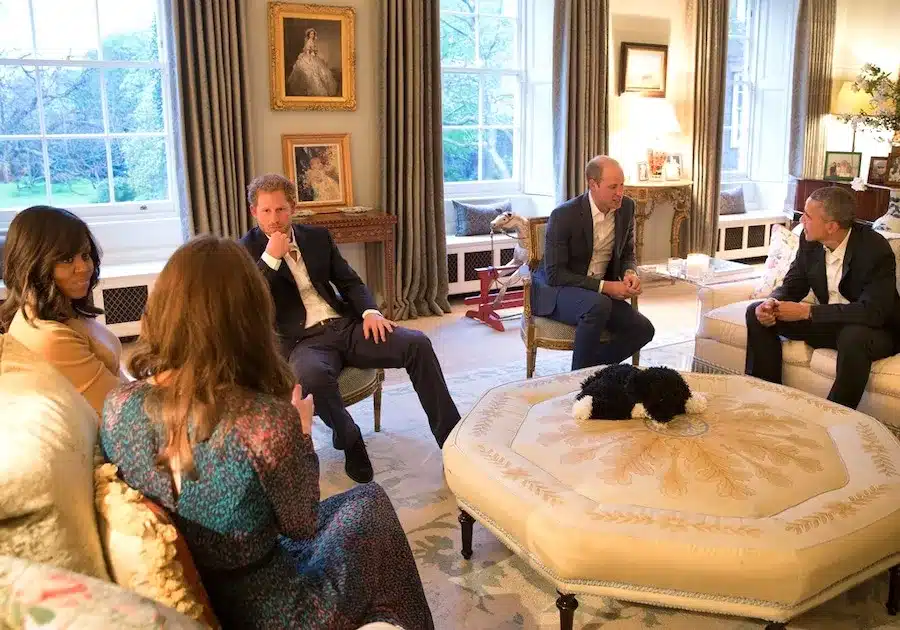 Many of the furnishings are ornate with framed artwork, vases and even small statues serving as decor (a white marble statue is visible behind Princess Charlotte in one of the scenes). A portrait of Grand Duchess Anna Feodorovna of Russia is behind the front door as Kate enters a main room and many framed family photos are displayed on a vintage bookcase. Princess Charlotte's fourth birthday portrait and Prince Louis' first birthday portrait are prominently arranged on top of the dark walnut bookcase. In addition, a historical gold mantel clock is visible surrounded by small ceramic animal statues which appear to be bookends of rhinoceros or other wildlife. (Prince William has worked on rhino conservation projects with his Tusk Awards).
A framed picture of Carole and Michael Middleton is also visible in the room in a scene behind Charlotte and Louis. The photo appears to be taken on the day of Kate and William's April 29th wedding at Westminster Abbey in 2011.
For formal occasions, Kate and William's guests are taken through an inviting brightly lit entrance hall with black and white tile floors to one of two drawing rooms; in these rooms, the couple host prominent world leaders, diplomats and other dignitaries. The sociable couple also host roundtable discussions and even put on podcast events, meetings and family gatherings. These spaces are minimally decorated with ornate sconces, gold baroque framed oil paintings, ceramic lamps and large decorative area rugs.
Vases filled with flowers, candles, ceramic lamps and other historic furnishings make Apartment 1A modern but also full of classic charm. Urn lamps, antique mirrors and colorful classic books also make the family home feel warm and welcoming.