The Princess of Wales is a frugal fashionista and when it comes to her daily wardrobe wares she's conservative with the cash. Not one to pay piles of pounds for excessively ostentatious baubles or bling, the mom of three ensures her royal jewelry collection is  filled with less pricey pieces and plenty of affordable accessories. In fact, she's so judicious about her jewelry she owns over 25 pairs of earrings costing less than $100.
Here are 25 of Kate Middleton's Affordable Earrings Under $100:
Azuni Kate Athena Drop Stone Aqua Earrings
The princess has worn these 22 karat gold plated hammered disc earrings with an aqua chalcedony gemstone for two occasions in 2012. She wore them in the Solomon Islands for the Jubilee Tour as well as to a friends wedding paired with a gray embroidered Erdem sheath. The earrings cost less than $50.
2. Shelley MacDonald Ulu Large Brass Earrings
Handmade by a Canadian jeweler, these brass earrings are inspired by the Ulu knife, a multi-purpose knife known as the 'legendary knife of the Arctic.' Kate was pictured wearing the locally designed earrings in the Yukon for the Wales' tour of Canada in 2016. The Ulu earrings retail for around $85.
3. Accessorize Filigree Beaded Short Drop Earrings
In India and Bhutan for an eight day long tour of the region, Kate accessorized her Topshop embroidered print pink midi dress with these budget-friendly beaded earrings. The gold hued beaded earrings cost around $10.
4. Mirabelle Lolita Loop Earrings
Handmade fairtrade earrings designed in London, these 22 carat gold plated brass earrings feature three interconnected gold hoops; the multi-hoop earrings were designed as a part of a mythology collection from British jewelry brand Mirabelle. The princess has worn the wallet-friendly earrings on two occasions in 2015 (for a charity event and Wimbledon) as well as in June 2017 for a land rover roadshow. The loop earrings currently cost $79.
5. J.Crew Pearl and Cluster Earrings
In November 2018, Kate stepped out in these holiday earrings for the Festival of Remembrance at Royal Albert Hall. The cluster earrings feature pearls and stones on hypoallergenic posts and were created with eco-friendly recycled brass. Originally the earrings cost $68 but a similar pair is now available for $49.
6. Zeen Ceramic Drop Earrings in Green
These gold-tone earrings feature a green beaded rhombus shaped pendant suspended from a citrine colored stone stud on a brass post. Green and ceramic pieces as well crystal studs decorate the drops. The princess wore the Pakistani brand in September 2019 during a visit to Aga Khan Center London and later recycled them for a visit to Bradford in January 2020. Originally the earrings retailed for $8.
7. Zara Golden Cascading Floral Earrings
Kate wore these earrings priced at less than $30 for the 76th annual BAFTA Awards. Paired with a flowy white Grecian goddess one-shoulder Alexander McQueen, the full look stunned and surprised as Kate also took a major fashion risk with bold opera gloves. The glamorous metal earrings feature flower shaped charms and metal rhinestones with a butterfly clasp closure.
8. Spells of Love Alia Hoop Earrings
A favorite of the princess in recent years, Kate has worn these 18 karat recycled gold plated chunky hoops on nearly 10 occasions. The handcrafted earrings have also appeared on model Kendall Jenner and have been featured in Vogue Magazine. Kate's beloved hoops retail for around $95.
9. Kate Spade New York Pretty Pom Tassel Earrings
At just under $100, these playful tasseled earrings are perfect for adding a bit of whimsy to an everyday outfit. The bold berry beaded tassels are accented with sparkling pave crystals on these fun and festive drop earrings. Kate wore the pair once in April 2017 to a theater performance of the 42nd Street musical. Actress Sienna Miller and fashion icon Olivia Palermo have also been spotted in the drop earrings.
10. Brora Gold Charm Earrings
With ornate medallions hanging on 22 karat gold brass, these eye-catching earrings offer an ordinary outfit a bit of posh panache without the hefty price tag. The ornate design features two hollowed out discs hanging on gold plated sterling silver hooks. The earrings currently cost $89.
11. Red Blaiz Beaded Earrings
Kate stepped out in these teardrop statement earrings for the Euro 2020 final in July 2021. To support England, Kate wore a mix of red and white (the colors of the flag of England). The bold beaded earrings cost less than $100.
12. Zeen Beaded Chandelier Earrings
The princess wore these handmade beaded white and turquoise bead drop earrings twice in Pakistan. Perfect for any budget conscious beauty, these chic earrings are bound to reappear in Kate's future wardrobe wears. The ceramic earrings cost around $10.
13. Accessorize Mini Hammered Door Knocker Hoop Earrings
One of Princess Kate's most affordable pairs of earrings are these gold tone hammered accessories which cost about as much as a large cup of a coffee. Kate wore the simple $3 hanging gold earrings to the Foundling Museum in January 2022.
14. Accessorize Hammered Disc Drop Earrings with Crystals
Decorative navy, green and rhinestone crystals accent these hammered hanging disc earrings. Kate wore the striking statement earrings for a visit to the Anna Freud Centre clad in a green Suzannah shirtdress. Kate's earrings from the London based brand cost a mere $23.
15. H&M Large Gold Hammered Metal Earrings
The princess wore these large statement earrings made of 100% metal twice — once in 2018 for a Royal Foundation dinner and again in Ireland in March 2020. The earrings were originally $12.99.
16. Orelia Chain Huggie Hoop Earrings
Priced right around $24, these classic statement earrings feature trendy chain texture detailing with an easy clasp fastening. The princess has worn the bargain 18 karat gold plated earrings on over 10 occasions.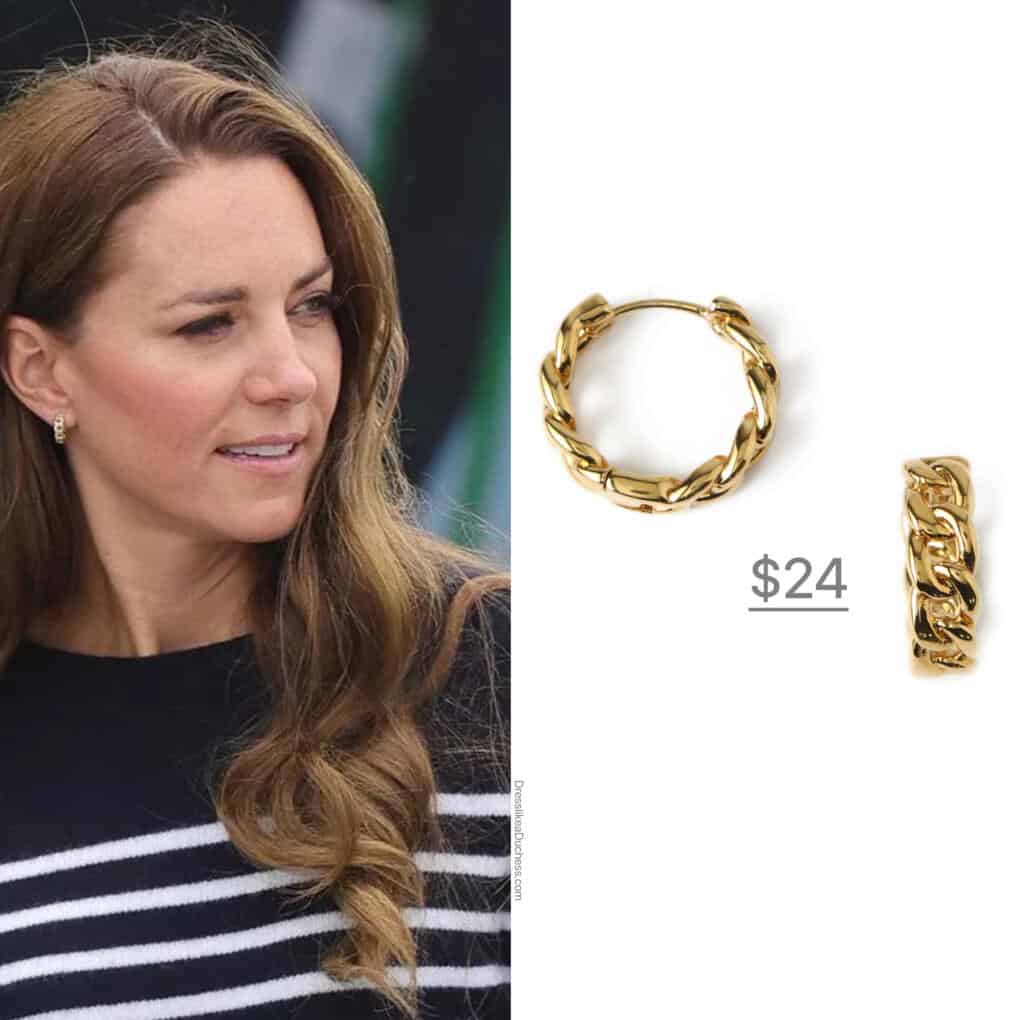 17. Accessorize Twisted Circle Drop Earrings
Mixing high and low fashion pieces, Kate wore a vintage Oscar de la Renta purple polka dot midi paired with these textured drop earrings for a reception in Ireland in 2020. She has donned the economical earrings on six more occasions since. The hoop drop pendant earrings cost around $6.
18. Accessorize Polly Petal Earrings
Pretty cluster earrings featuring pale pink petals arranged to look like hanging flowers, these dangling drop earrings cost the princess just $10. Kate has worn the earrings on a total of three occasions — mostly for garden outings and outdoor excursions.
19. Accessorize Simple Filigree Drop Earrings
Princess Kate donned these delicate earrings for a Back to Nature festival and later took the scalloped edge earrings to Pakistan. The pretty and practical earrings feature cut-out details on a hook backing and cost less than $10.
20. Accessorize Pearl and Disc Hoop Earrings
Twisted huggie hoops define these cute but captivating molten coin earrings featuring a hanging pearl charm. The Wales matriarch debuted the earrings for a Christmas tree trimming session in December 2022 and has worn the classic hoops three times in 2023. The textured disc earrings cost just $10.
21. Accessorize Eclectic Gem Earrings
These long drop statement earrings were a festive finishing touch on the princess' burgundy Eponine coat worn for the 2022 'Together at Christmas' carol service. Featuring a mix of berry colored glass stones, the vibrant drop earrings were priced around $18.
22. Anthropologie Coral Shell Drop Earrings
A long time fan of baroque pearls, Kate wore these $60 on-theme tropical earrings in the Caribbean for her departure from Belize alongside husband Prince William in March 2022.
23. ASOS 14k Gold Plated Twisted Hoop Earrings
Mindful of not spending exorbitant amounts of Crown credit, Kate wore these affordable twisted hoops three times in 2021 and repeated them for a Shout UK visit in January 2022.
24. All the Falling Stars Gold Disc Earrings
Gifted to the princess in harbor city Galway in Ireland, Kate has worn these hoop earrings with a hanging gold disc on a total of four occasions. Frequently worn for daytime engagements and charity outings, these affordable earrings cost a mere $51.
25. Shyla Rosalia Earrings in Pearl
These chic earrings feature rows of freshwater pearls set on twisted 22-carat gold hoops and were first spotted on the princess in September 2023. Subsequently, she stepped out in the pretty modern earrings twice more the following month. The art deco-esque pearl hoops cost a mere $75.
BONUS PAIRS
In addition, the princess owns these Chalk Florence geometric earrings in acrylic inspired by the ceiling of the Royal Opera House. The earrings cost just $84.
She also recently acquired the Milina London Gemstone Triangle Earrings handcrafted in green onyx priced right around $54.