While the Princess of Wales is regularly on royal duty throughout the chilliest months of the season — often visiting care homes, charities and Scottish soil — she never neglects to keep warm. And though the plebs can bundle up in heavy hats, wraparound scarves and thick shawls — the princess must be presentable and look flawless sans shearling  snowboots and stuffed puffer coats.
Since the princess can't wear all the winter wear her heart desires, she must be deliberate and mindful with winter accessories. One way the princess can stay warm without the marshmallow man look is with gloves.
Honoring the late Queen Elizabeth II — the Shaping Us campaigner often sports gloves from British fashion house Cornelia James. Having a Royal Warrant (a mark of recognition from the Royal Household) since 1979, the accessories maker supplied the Queen with her array of mittens since 1946. The company also supplied its handmade wares to Princess Diana and regularly bestows its occasion gloves to Princess Eugenie and Princess Beatrice.
While Kate almost always wears the brand's wool and jersey gloves adorned with a bow, she's recently received raves for donning the Cornelia James 'Melissa' long velvet opera gloves in black. Taking a major fashion risk, she wore the statement gloves for a red carpet appearance at the BAFTAs this year in February 2023.
Kate's go-to glovemaker offers a tantalizing selection of products — including leather, tulle, cotton, suede and lace gloves. Categorizing gloves by season or occasion– there are glove offerings for every affair — like skin protecting lightweight cotton day gloves for summer (seen on celebrity Hailey Bieber for a LOVE magazine August 2019), whimsical tulle gloves with harlequin cuffs for afternoon tea parties, vampish fingerless lace gloves for debutantes or destination dinner parties (seen on actress Lindsay Lohan in Vogue Magazine August 2009) and of course, romantic silk satin opera gloves seen on Netflix's Bridgerton as well as velvet gloves seen on performers like Lady Gaga.
And if you don't have an upcoming Emily in Paris watch party or a fancy Jane Austen cosplay affair to attend, the glove designer offers hand embroidered touchscreen gloves, ski mittens and made-to-order satin and lace bridal gloves. (They also offer worldwide shipping).
Princess Kate is still the glove trendsetter du jour and offers commoners a sneak peek into British heritage dress code which never fails to include a pair of couture gloves.
Here are Princess Kate Middleton's 7 Pairs of Cornelia James Gloves:
Rich chocolate brown Cornelia James gloves were pictured on Kate in early January at post-Christmas church service in Sandringham in 2018 and again a month later in Norway. The merino wool gloves (made in the brand's East Sussex workshop) are constructed with a rich faux fur trim which keeps the wearer's wrists and hands toasty during the snowy season.
2. Cornelia James Beatrice Glove in Black
Pairing her practical but elegant gloves with a hot pink Mulberry coat, the busy royal was comfy and cozy in Coventry in early 2018. Kate's jersey merino wool gloves feature a dash of feminine frill with a front bow at the cuff. The princess has worn the gloves on five occasions (Remembrance Sunday in 2017, two times in Norway in 2018 and also on a visit to northeast England in February 2018).
3. Cornelia James Imogen Merino Wool Glove in Black
Pretty but practical with hint of romantic charm, these wrist length gloves are designed in pure Australian merino wool and fine jersey. Crafted in the brand's quaint atelier (studio) at a farm just outside of East Sussex, these timeless gloves are a staple in Kate's winter wardrobe (she's worn them over a dozen times since 2012).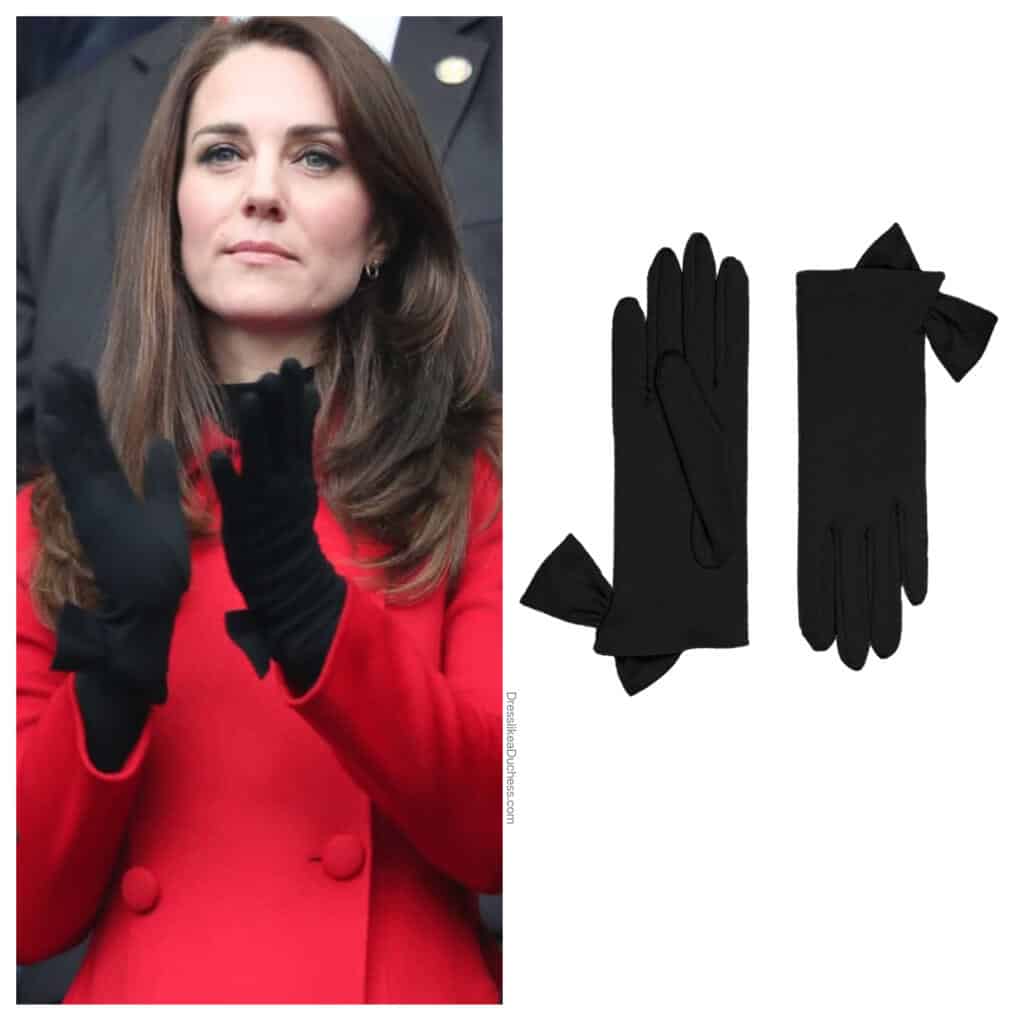 4. Cornelia James Imogen Merino Wool Glove in Chocolate Brown
Princess Kate has donned her brown version of the Imogen gloves less frequently than the black — having worn the pair just twice (once in Sweden and later for a walk to church in January 2020).
5. Cornelia James Alice Merino Wool Glove in Black
Party ready gloves with a velvet side bow and thin velvet folds, these gloves transition easily from day to nightwear. The princess prefers these wool gloves for holiday occasions and has worn them seven times since 2017. She sported them on Christmas Day 2017, on the Royal Train tour in 2020 and most recently, she wore them for Remembrance Sunday in 2022.
6. Cornelia James Beatrice Glove in Navy
Worn just once at a service of dedication in March 2017, the princess paired her navy gloves with an elegant indigo twill jacquard Michael Kors coat and wide brim navy hat from Lock & Co. She also owns the stylish Beatrice gloves in black.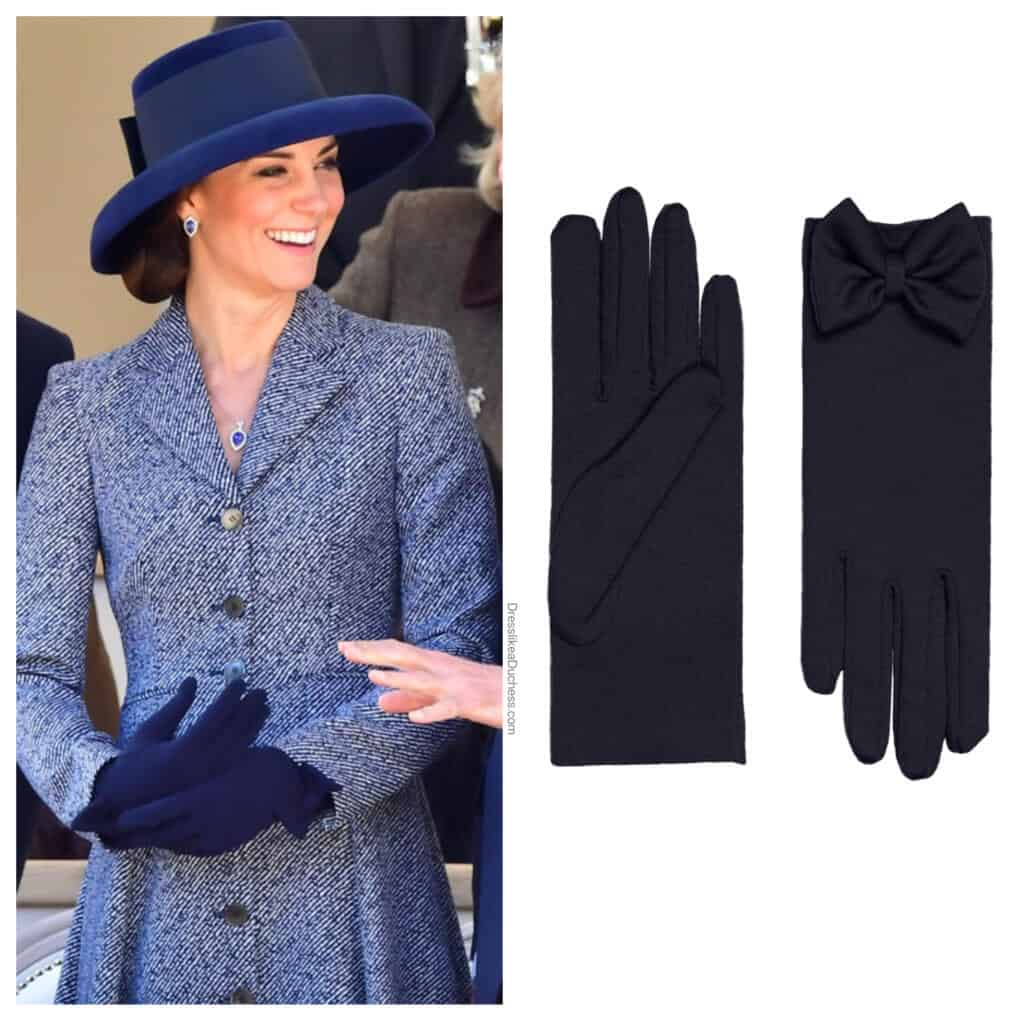 7. Cornelia James Melissa Velvet Opera Gloves in Black
Joining the likes of Ariana Grande, Lady Gaga and Rihanna, Kate wore these dramatic and daring long black Cornelia James gloves for a BAFTA Awards ceremony in 2023. Giving good Glam–the princess left royal watchers stunned with her graceful swan meets ballerina meets Grecian goddess ensemble.