While there is wide speculation on Meghan and Harry's new baby and the gender, name and nursery–one thing that remains clear is everyone seems to have an opinion on Meghan's blossoming baby bump. Some news outlets have reported that trolls have taken to social media to declare that Meghan's bump is "fake" and "too big." Meghan has received much undue criticism for merely placing her hands on her belly throughout pregnancy.
Well despite the ugly rumors and negative social media landscape–there are a few things that can be determined about Meghan's growing bump.
Here are 7 Things Meghan Markle's Baby Bump Secretly Reveals:
Meghan Was Very Fit Pre-Pregnancy
As the duchess seems to be carrying her baby higher, it's likely she was very toned and fit prior to pregnancy. According to website The Bump, "tight abs offer more support and lift to a growing uterus, so fit moms-to-be often carry higher, particularly with a first pregnancy."
2. Meghan is Likely Using Supportive Clothing
The Duchess of Sussex has been spotted cradling her baby bump and as a happy new mom–it's perfectly normal and maternal of her to want to protect her little guy or girl especially in the public eye. In fact, this touchy tactic is often a way mothers are able to bond with their babies before they're born. Still, Meghan may be touching her bump if she's wearing a belly band or a support belt to stay comfortable throughout pregnancy;  the undergarment could be pulling or falling down as she is busy moving and walking on royal engagements.
3. Meghan's Bump May Be Making Daily Tasks More Challenging
As the Duchess of Sussex is very committed to her royal role, she's likely going to work and make appearances even as her due date looms. Still, Meghan will almost certainly have to adjust how she interacts with the public and may have more difficulty bending down or squatting due to the soon-to-be Sussex babe.
4. Meghan is a Very Petite Woman
As a small and slender woman, Meghan's baby bump may be more pronounced in earlier stages of pregnancy than women who are taller. As the baby (or babies) are due in late April, Meghan may see more swelling and become uncomfortable in later stages of pregnancy as she negotiates her bump on a small frame.
5. Meghan is Likely Still Practicing Yoga
At the Mayhew, Meghan showed off her stellar mom-to-be skills by bending down to greet a puppy. The expectant duchess proved she's still likely practicing yoga and stretching in her free time. In addition, she's likely meditating and practicing prenatal yoga in anticipation of the birth of the baby. It's even been reported she could try hypnobirthing.
6. Meghan's Bump May Predict a Baby Boy is Due
According to midwife Amanda Bude, the way Meghan is carrying is indicating she's likely to see blue in April. As Bude told the Express, "Looking at Meghan's baby bump, it seems to be more 'high and pointy' than 'wide and low' which could indicate she will have a baby boy."
7. Meghan is Focused on Having a Healthy Baby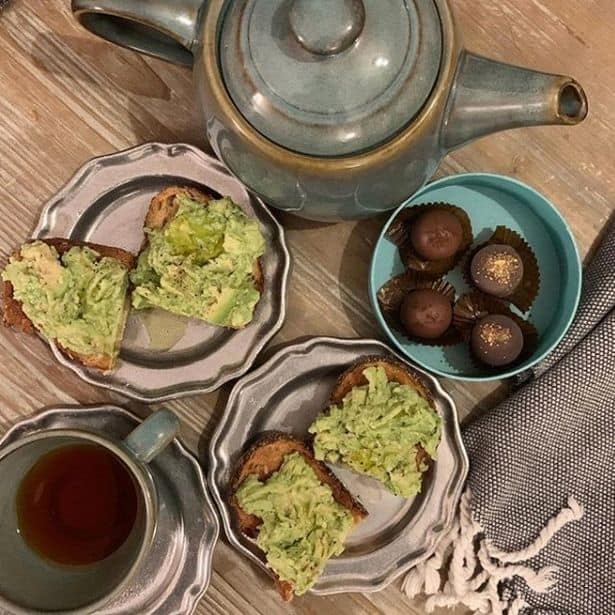 While it might have nothing to do with Meghan's baby bump–the duchess may be preparing for having a healthy baby as she's been seen entertaining friends like her makeup artist Daniel Martin–with a spread of avocado toast. Avocados are super beneficial for babies and moms alike and according to BellyBelly, "Avocados contain higher amounts of several non-essential compounds, such as fiber, mono-unsaturated fats, and lipid-soluble antioxidants, which have all been linked to improvements in maternal health, birth outcomes and/or breast milk quality."