The Princess of Wales has a big heart — often touched by the sagas and stories of those she meets on royal duty as well as attending many solemn and somber occasions as part of her royal role — she's been known to become emotional and even shed a tear or two in public.
Here are 10 Times Kate Middleton was Emotional on Royal Duty:
Wimbledon
Watching the Women's Final at Wimbeldon in July 2023, the princess had a brief cry as she broke down in solidarity with Ons Jabeur who lost the competition to Markéta Vondrousova.
2. War Tribute
During an emotional visit to a World War I tribute at the Tower of London–the princess wiped away tears. The then Duchess of Cambridge was awed by the moving installation called Blood Swept Lands and Seas of Red — the work of Paul Cummins — the 888,246 poppies on display represented a British or Commonwealth service member who lost their life in the years between 1914-1918.
3. Charity Visit
Attending a hospice event for East Anglia Children's Charity, the Princess of Wales was four months pregnant and expecting Princess Charlotte. Following the engagement, Kate cried in the car after having a conversation with a mother who lost her child to a heart condition at just three months of age.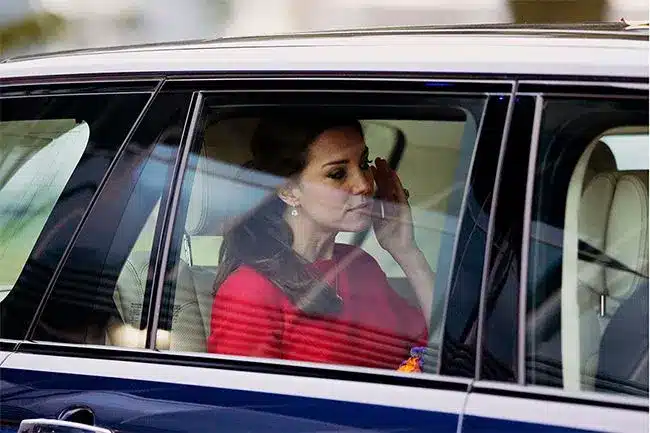 4. Queen's Funeral
Princess Kate's eyes appeared glassy and she looked to be on the verge of tears around mourners when she and husband Prince William viewed floral tributes to the late Queen at Sandringham House.
5. Manchester Memorial
At a memorial for the victims of the Manchester Arena bombing, the princess was overcome with grief and was pictured wiping tears from her eyes at the Glade of Light memorial site.
6. Ukraine Culture Center
During a visit to the Ukrainian Cultural Center, the Princess of Wales was seen holding back tears as a volunteer described the struggles and hardships of Ukrainians and their families during the ongoing Russo-Ukranian War.
7. Holocaust Memorial Service
In January 2020, the Prince and Princess of Wales took part in an emotional Holocaust Memorial Day service at Westminster Abbey. The moving and powerful event brought Kate nearly to tears.
8. Covid Call
In an emotional phone call during the Covid pandemic, the princess spoke with Hayley Evans who lost both grandparents to the C19 virus.
9. Remembrance Sunday
The princess became beset with emotion during Remembrance Sunday services in November 2021. Photographed pursing her lips together — the mom of three appeared to be holding back tears.
10. Leicester Memorial Site
Honoring those who lost their lives in a tragic helicopter crash, Princess Kate was visibly moved as she laid flowers at a makeshift memorial site at King Power Stadium in Leicester. Both Kate and William personally knew the victims of the crash including the football chairman.