The Princess of Wales has long been hailed as a fashion influencer and royal rockstar. She's got the right stuff when it comes to dressing impeccably for her royal role and acting as a glamorous and graceful ambassador for the monarchy. And while Kate's fashions often provoke great discussion and dissection — the princess' mini-me daughter is also receiving much admiration when it comes to her style. Frequently clad in floral babydoll dresses, wool coats and Mary-Jane shoes with tiny block heels — little Princess Charlotte is literally Kate's dressy doppelgänger.
Here are 20 Times Kate Middleton Was Style Twins with Princess Charlotte:
Merry in Berry
Dressed in berry colored coats and hair accessories (headband for Kate, bow for Charlotte), this mom and daughter looked ready for the holidays.
2. The Great Royal Bake-Off
Princess Kate and her mini-me daughter matched expressions while playing pastry chefs.
3. Formal Fashions
The princess wore a black tipped Jaeger sheath for a royal engagement circa 2014 while Charlotte sported a similar white dress for a family wedding.
4. Countryside Clothing
The Princess of Wales loves a good wool sweater in sage. Princess Charlotte mimicked her mom in a collared shirt and charming cottage embroidered crewneck from Ralph Lauren. The tiny royal wore the cozy top for the Cambridge family Christmas Card in 2020. Plus, both ladies were matchy-matchy in identical tassel Penelope Chilvers boots!
5. Flower Power
The Princess of Wales showed off her sartorial smarts in a pretty belted Michael Kors carnation midi dress but little Princess Charlotte wore it first! The little royal wore her floral frock in Poland in 2017 while Kate donned her dress for a school run in 2019.
6. Long Coats
It's not known whether Princess Charlotte has a stylist at the palace yet, but we're betting mom Kate often helps guide the youngster and helps her pick out clothing for royal duty. Both mom and daughter often sport military-minded long wool coats with burnished buttons.
7. Polka Princesses
Both the Princess of Wales and her only daughter can't resist playful polka print. These royal ladies especially enjoy the look for summertime styles.
8. Better in Bows
Forget a necklace or scarf — accent any dress and make a royal ensemble fun and fresh with the whimsy of a big bow. Catherine and Charlotte love a little bow drama.
9. Polo Perfection
Princess Kate and her royal offspring can't resist a classic pinstripe dress. Kate's gathered bodice off-the-shoulder dress is from Zara while little Charlotte's toddler seersucker dress is courtesy of Ralph Lauren.
10. Daisy Duo
To present Charlotte Elizabeth Diana to the world, the princess wore a custom yellow floral buttercup print dress by Jenny Packham. It's no surprise that little Charlotte would 'replikate' the look where she was introduced to the world — the mini royal wore a similar floral motif dress for the Queen's Platinum jubilee.
11. Smooth Sailing
For casual wear, Princess Kate often dons horizontal long sleeve tops from designers like Hugo Boss and ME+EM. Charlotte is taking a page from mom's style book wearing similar nautical styles at the Wales family home at Anmer Hall.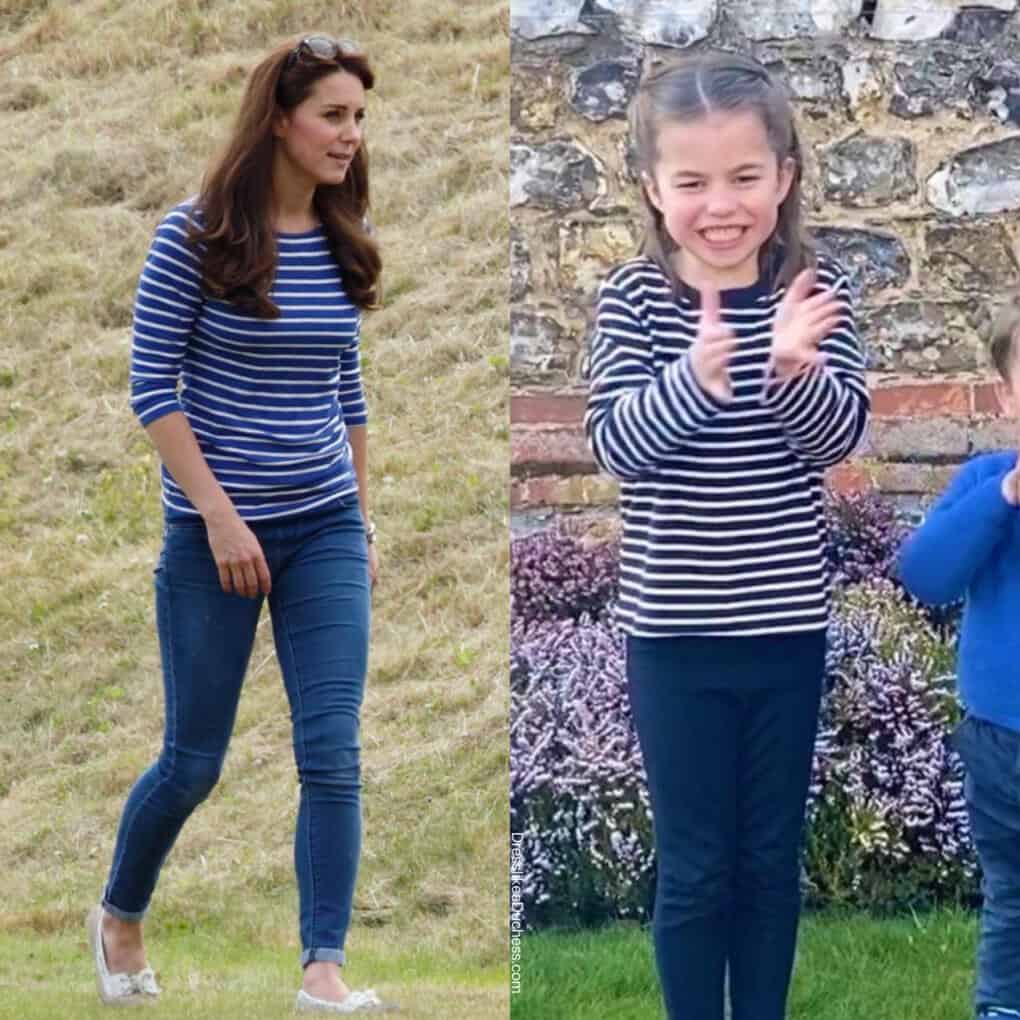 12. Sweater Season
Both the future Queen and the petite princess love wearing collared blouses with chunky wool sweaters. The layered look lends itself to a preppy aesthetic and adds a scholarly and sophisticated twinge to classic winter wear.
13. Christmas Chic
Clad in their long green coats for Christmas, the princess and her progeny are giving serious twin vibes.
14. Blue Skies Ahead
Kate and Charlotte are inclined to wear azure attire for carriage rides and traditional royal processions and ceremonies.
15. Stripes for Days
Both former commoner Kate and her little lass are often clad in easy daywear like striped boatneck tops.
16. Wide Brim Hats
Princess Kate and her daughter, third in line for the British throne, wear dressy ribbon adorned drop brim hats for official royal engagements.
17. Ivory Coats
For balcony appearances and Buckingham Palace parties, Kate and her young daughter often wear pearl colored double-breasted button coats.
18. Smocked Styles
The princess wore this pretty smocked blue floral Tory Burch for a royal tour, while little Charlotte donned a similar smocked blue and white check dress from Mango for the family Christmas card in 2021. Totally twinning!
19. Regal in Maroon
Kate and Charlotte looked to have taken inspiration from each other for their carol concert ensembles. Kate wore a tab-waist burgundy Eponine London coat while Charlotte was festive in a garnet coat from Trotters.
20. Coronation Lookalikes
Kate and Charlotte looked like the ultimate tiara twins in their leafy crowns for King Charles' coronation.