Princess Kate Middleton has long been a fan of symbolic and sentimental jewelry. Often wearing pieces with birthstones, letters and tokens, the mom of three is a fan of stepping out in meaningful accessories. Since the birth of Prince George, Kate has been dedicated to personalized pieces which often feature charms with the initials of her children.
Frequently worn with stargazing symbols like moons and celestial bodies or nods to nature, Kate's personalized adornments represent her love of family. While the princess does own many historically significant and priceless royal heirlooms from Queen Elizabeth II and Princess Diana, these are the accessories that she wears in tribute to her immediate relatives and loved ones.
Here are 6 of Kate Middleton's Most Sentimental Pieces of Jewelry:
All the Falling Stars
All the Falling Stars
Worn by the princess twice in the fall of 2020, Kate's personalized necklace was actually a gift she received on a royal tour in Galway, Ireland in March of the same year. The 14 karat gold filled necklace has three layered discs overlayed with hammered discs. Each of the three round discs features an initial of one of her children — G for Prince George, C for Princess Charlotte and L for Prince Louis. She has worn this pendant trio with a Massimo Dutti cashmere crewneck sweater as well as a Ralph Lauren puff sleeve ribbed short sleeve top.
2. Daniella Draper Personalized Midnight Moon Necklace
To date, the princess has worn this delicate chain necklace on 12 occasions. Featuring a single gold pendant charm representing a full moon with sparkling star diamonds — this astrological accessory is inscribed with the first initials of her children — G, C and L. The princess frequently pairs this statement necklace with ribbed tops, turtlenecks and plain shirts.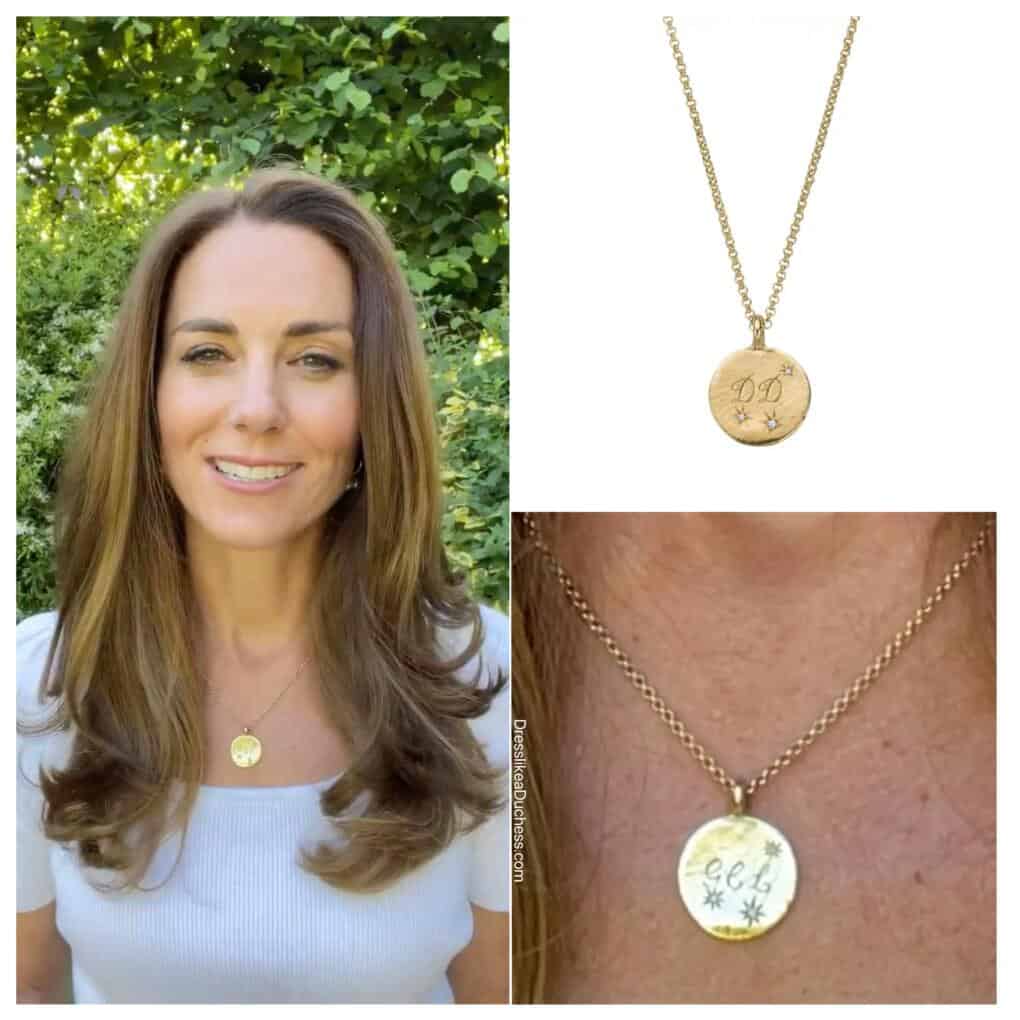 3. Daniella Draper Gold Fixed Alphabet Necklace
Made of recycled 9 karat yellow gold, this shiny necklace can be layered with other chains for a fun and playful piece. Perfect as a sartorial icebreaker, the Daniella Draper monogram necklace is full of cutesy charm. Kate has worn this necklace on just two occasions–both times in Scotland in May 2021.
4. Merci Maman The Duchess Necklace
To celebrate the birth of her first son Prince George of Wales in July 2013, Kate donned this 18 karat champagne gold plated charm necklace a few months after his arrival; the new mom wore the long necklace during a shopping trip in October of the same year. The princess was spotted in the affordable piece while browsing Zara Home in Chelsea for some new housewares to furnish her Kensington Palace residence. Kate's necklace was personalized to read 'George Alexander Louis.' The company offers additional personalization options which can include a boy or girl child charm, mini heart pendants and birthdate trinket. The company hand-engraves their jewelry at a workshop in Paris.
5. Asprey London Woodland Charms Necklace
The Princess of Wales combined three charms from Asprey London to create a signature and customized statement piece. Inspired by English woodland flora, the pretty charm necklace has three distinct charms made of 18 karat yellow gold and encrusted with diamonds. Kate's necklace has a woodland acorn charm priced at $4150, an oak leaf charm at $2800 and a woodland mushroom charm with a value of $7350. Inspired by her family's coat of arms featuring three acorns representing the Middleton children (Kate, Pippa Middleton-Matthews and James Middleton), an oak tree symbolizing England as well as strength, and gold chevron denoting Kate's mother's maiden name (Goldsmith) — this stylish accessory has been worn by Her Royal Highness on seven occasions. The princess first stepped out in the nature-minded necklace for a zoo engagement in Australia in April 2014. She recently wore the piece paired with a plaid dress to visit the Victoria & Albert Museum in May 2021.
6. Dallah Pendant Necklace
Worn for the Cambridge Christmas card in 2021, Kate donned this Arabic coffee pot pendant necklace with an olive green shirtdress from SEA New York. The single charm necklace pays tribute to Kate's early childhood when she lived in Amman, Jordan from 1984 to 1986 with her mother, father and sister. (Her younger brother was not yet born). In addition, the dallah is symbolic of Arabian culture and heritage and denotes themes relating to hospitality and generosity — the piece symbolizes concepts of sharing coffee together with family as well as rituals related to community.