Both duchesses were together for Trooping the Colour to celebrate the Queen's 92nd birthday. The Duke and Duchess of Sussex recently returned from an undisclosed honeymoon location to join Her Majesty to celebrate on the Buckingham Palace balcony while the Duchess of Cambridge made only her second appearance since the birth of Prince Louis.
Meghan elected to wear a pale pastel Carolina Herrera dress with a similar blush shade to the Goat dress she recently wore for Prince Charles' garden party. While the garden party dress had sheer sleeves, her Trooping the Colour style was off-the-shoulder and revealed her glowing arms and upper décolletage.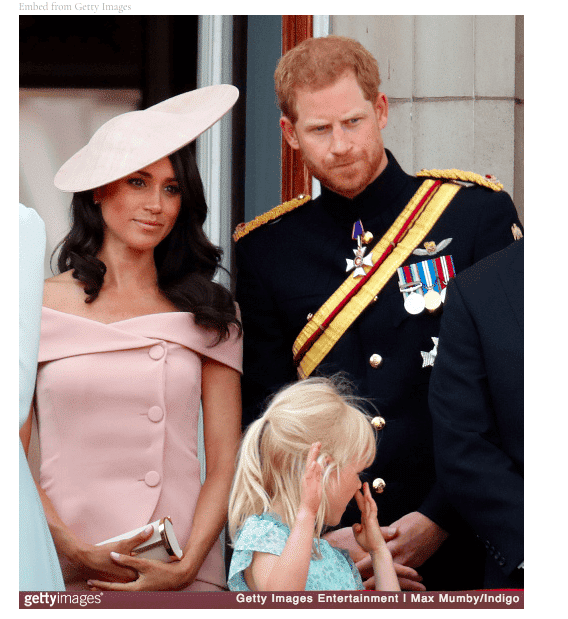 The button midi dress had a shawl off-the-shoulder collar making it very modern and distinctive. Meghan's dress was similar in style to an ensemble recently worn by one of her good friends, Amal Clooney.
While the Duchess of Cornwall, the Queen and the Duchess of Cambridge opted for shades of blue (perhaps a nod to the Royal Air Force), Meghan went for a feminine pink shade and Philip Treacy hat. The Duchess carried an Insignia clutch made of white patent leather with a tubal shape. The clutch comes in a variety of differnet styles from sequin to glitter to lace and flamingo. The solid box style clutch is a departure from Meghan's soft and flexible crossbody bags and envelope clutches like the Wilbur and Gussie satin bag she carried for Prince Charles' garden party.
For accessories, Meghan wore the Birks Iconic Stackable Rose Gold Diamond Snowflake Ring. The stackable ring has seven diamonds around the 18 carat rose gold band. In addition to this glamorous index finger ring, the duchess opted for the Birks Bee Chic Ring made of hexagonal rose gold and diamonds. This ring is also available for purchase. Reportedly Meghan opted for Opal earrings by Birks as well. She may have worn her Les Plaisirs earrings.
The Duchess of Cambridge wore a pale blue bespoke Alexander McQueen dress. The Sarah Burton creation included three-quarter style sleeves, a pleated skirt and hat by Juliette Botterill.
Meghan also wore Carolina Herrera for her Vanity Fair cover story. The gorgeous bustier tulle ballgown is still available for purchase HERE. Interestingly, the model wearing the ballgown is also carrying the Gucci Dionysus bag–another favorite of Meghan's.
Image Via Vanity Fair