Originally inspired by a trip to the Badminton Horse Trials, Jade Holland Cooper has long been infusing equestrian spirit into her classic countryside styles. The British born fashionista founded her luxurious namesake brand in 2008 (the same year of the trials). Jade Cooper was raised in a farmhouse in Suffolk and has long had a passion for stallions and style.
Holland Cooper started with a focus on tailoring and an emphasis on traditional British style including tartan trenches, herringbone coats and houndstooth capes. Today, the label offers everything from aromatic candles and chunky booties to children's puffer coats and even leather dog collars adorned with British tweed.
The label is especially beloved for their equestrian attire — fleece coats, thermal leggings as well as quilted gilet vests and even jogger outfits. Holland Cooper has an entire equestrian line with separate competition, casual and training wear.
Jade Cooper started her brand with an idea at the horse championship tournament and turned her love of all things equine into a contemporary clothing collection. The designer began her luxe label by creating 30 tweed skirts with leather and suede accents found in her mother's old design studio in an outbuilding on her family farmhouse.
The Holland Cooper aesthetic appeals to the Princess of Wales for its blend of countryside chic with smart-casual British elegance. The clothing company puts an emphasis on modern workwear — including structured fit and flare coats, knit dresses, croc bags with tortoiseshell top handles as well as satin shirts and blazers in every combination from longline to double-breasted and cropped.
Most of Holland Cooper's styles are handmade in the UK from Scottish wool and jackets are typically designed in England using wools woven in the UK. The brand has a flagship Cheltenham Boutique in the heart of the Cotswolds with its own official 'Holland Cooper Boot Room.' Other stores pepper the English countryside and central London with HC boutique locations in various shopping centers and department stores across the UK.
Here are 10 of Kate Middleton's Best Holland Cooper Fashion Moments:
1. Holland Cooper Black Twill Double-Breasted Blazer
A perfect versatile and everyday essential, this black blazer is designed with luxury stretch lining and adorned with signature Holland Cooper gold buttons on the front and cuffs. Constructed entirely in England, the jacket has been worn by the princess on three occasions starting in May 2021 when she debuted the topper in Scotland at St. Andrew's University. Kate prefers to pair the black blazer with cropped trousers and heels or sneakers.
2. Holland Cooper Astoria Roll Neck Knit in Fern Green
Jade Holland Cooper loves to design wardrobe "investment pieces" and this cozy and classic knit is no exception. Worn by the princess just twice — in March and April 2023 — this alpaca yarn sweater features distinctive long panels at the front as well as ragland sleeves and ribbed cuffs. The roll neck jumper is also detailed with the brand's signature horn button hardware. Kate wears her dark green turtleneck for outdoor excursions and military training engagements.
3. Holland Cooper Marlborough Trench in Heather Tartan
One of Holland Cooper's signature styles — this patterned trench features a classic and timeless tartan print in shades of blue and green. The full-length coat is designed with a double-breasted front and belted waist. Kate donned her long coat constructed of high- quality tweed for an NHS movie benefit at Holyroodhouse Palace in Edinburgh, Scotland in May 2021.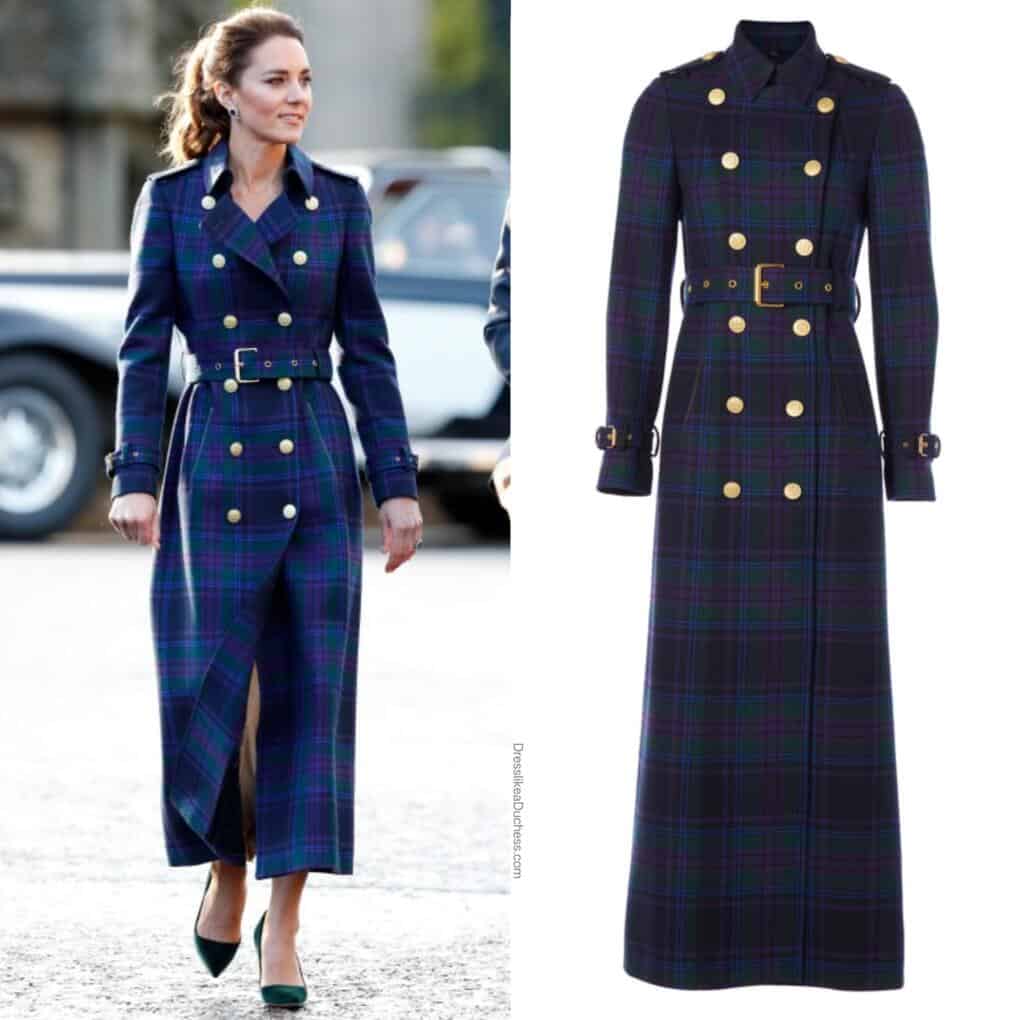 4. Holland Cooper White Cupro Shirt Bodysuit
A shirt bodysuit gives the impression of a seamlessly tucked in blouse — Kate has worn this 'Cupro Shirt Bodysuit' with a nylon elastane thong base on seven different occasions. The princess first sported the layering piece while working from home during the pandemic in January 2021.
5. Holland Cooper Full Length Trench in Marlborough
This tawny trench has been seen on the princess on just one occasion — during the annual Wales family summer trip to Balmoral in August 2023. Kate and company were seen driving to church services at Crathie Kirk in the Scottish highlands. For the drive, the princess was clad in autumnal shades including a dark brown Hicks and Brown 'Suffolk' fedora with a gambird feather as well as this double-breasted tan trench.
6. Holland Cooper Country Knit Sweater in Forest Marl
Crafted of 100% merino wool, this slim-fit crewneck jumper has been photographed on the princess on two occasions. Kate wore the country chic top with its classic coziness for a visit to Scotland in May 2021 as well as for Armed Forces Day in 2022. The sweater boasts quilted suede patches including a gunpatch on the shoulder as well as horn-style Holland Cooper branded buttons on the collar and cuffs.
7. Holland Cooper Double-Breasted Coat in Blackwatch
The princess stepped out in this hand-cut longline coat first in November 2021 when she wore sweater separates from Iris and Ink. Kate has been spotted in the sophisticated coat designed with a plaid blackwatch print in green and navy on two more occasions since its debut. The classic check coat has luxurious satin lining, welt pockets with HC branded rivets and is composed entirely of wool material.
8. Holland Cooper Knightsbridge Coat in Houndstooth
A checked black and white coat with HC crested gold buttons — this double-breasted coat has appeared not only on the Princess of Wales but designer Jade Cooper herself. The fashion designer has worn her own coat on a number of occasions including to horse racing competitions and festivals. Kate stepped out in the structured coat for a day of rugby in February 2022 with son Prince George and husband Prince William.
9. Holland Cooper Double-Breasted Blazer in Navy Chalk Pinstripe
The princess was a professional powerhouse in this sharply tailored pantsuit for the first time in September 2023 to meet with Apple CEO Tim Cook. Just a few days later, she recycled the pinstripe jacket and pants for a visit to her namesake Cardiff, Wales. Kate's sleek suit jacket has all the elements of a workwear winner — bold lapels, subtle hip pockets and signature Holland Cooper decorative gold buttons.
10. Holland Cooper Fairisle Knit Sweater in Cream
A longer length and ultra high roll neck makes this holiday-friendly sweater a standout. With a fun and festive fairisle print, this extra soft yarn turtleneck has been a favorite of Princess Kate's for the holiday and winter season. The royal has worn the top for three occasions including for a children's storytelling program in February 2022 as well as for trimming the tree for Christmas celebrations in December 2022. The princess also announced her 2023 carol concert via social media wearing last year's sweater (the concert will be held December 8th at Westminster Abbey).